As a provider of high quality computer technology, we strive to offer you only the best products and services and to constantly improve ourselves. Our previous suppliers were also already ISO 9001 certified. For companies of all sizes and industries, a quality management system certified in accordance with DIN EN ISO 9001 as ideal proof of competence and performance. For a few years now, we have been using our own quality management system that was already ISO 9001 compliant.
It was therefore not a difficult step for us to obtain the ISO 9001: 2015 certification on paper.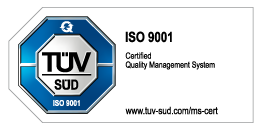 We value:
Continuous improvement and error prevention
Reduction of scatter and waste
Determination and monitoring of quality-related costs
Product liability and product safety
Product and process development
Interdisciplinary cooperation
We are happy to share this success with you and wish to continue cooperation with you as good as in the past.